Nokia E62 launched by Cingular
Oct 02 2006 - 03:47 PM ET | Cingular, Nokia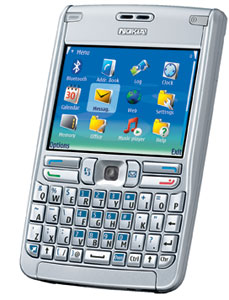 As expected, Cingular has launched the Nokia E62. The E62 is Nokia's North American targeted version of the E61. It's one of only a few models that Nokia has shipped with a QWERTY keyboard.
Cingular's aggressive pricing for the E62 should catch a few by surprise, especially with the feature set:
QVGA

320×240 screen with 16 million colors

QWERTY

keyboard with backlighting
Several email solutions, including Good Mobile Messaging, Cingular Xpress Mail, BlackBerry Connect, Mail for Exchange and regular

POP

/IMAP/SMTP
Quadband

GSM

plus

EDGE

miniSD slot

S60

version 3 (Symbian 9)

AOL

/Yahoo/ICQ Instant Messaging
Cingular is selling the Nokia E62 for just $149.99 after a $50 mail-in rebate. That price includes a 2-year service contract but does not necessitate an unlimited data plan (like Verizon's lowest price for the Q does). Cingular is currently selling the Treo 650 for $299.99, twice the price of the E62.
---