Sidekick 3 special editions announced
Oct 13 2006 - 12:01 AM ET | Danger, T-Mobile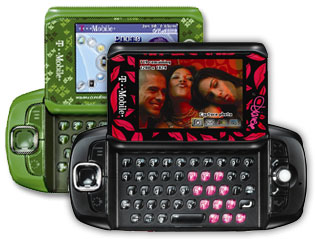 The Sidekick 3 was officially announced about 4 months ago, but T-Mobile has refreshed the popular device by bringing out two special editions. Features remain the same as the original Sidekick 3. There is one model designed by both Lifted Research Group (green) and Diane von Furstenberg (black).
Features of the Sidekick 3 include:
IM (AIM/Yahoo/MSN)

MP3

player with suport for stereo headset
miniSD card slot
Bluetooth 2.0
1.3 megapixel camera

EDGE

high-speed data
The new Sidekick models go on sale in store and online starting on October 30th. With a 2-year contract the devices will sell for $345. That's a slight premium over the original Sidekick 3 which is currently selling for $299 online.
---