Kyocera Cyclops announced by Virgin Mobile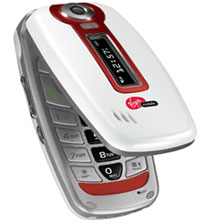 Virgin Mobile has announced the Kyocera Cyclops, a stylish white clamshell handset. Like the LG Chocolate in White that Verizon Wireless just started shipping, the Cyclops sports a pearl white finish. Technology wise the Cyclops is fairly high-end for Virgin Mobile, because the company doesn't use service contracts and subsidize handsets heavily the phones are typically lower end to keep costs down.
Features of the Kyocera Cyclops include:
1.3 megapixel camera
Speakerphone

TXT

Tones, contact specific tones for incoming text messages

VAM

(Virgin Mobile Audio Messaging) See below for more information
The VAM feature is new to the Cyclops but will be compatible with the Switch_back shortly. Users can set up a buddy list and send short audio clips. It's not push-to-talk because the recipient has to open the messages and can replay them. Virgin Mobile will begin shipping the Cyclops on November 2nd. It carries an MSRP of $99.99 and there is no contract or rebate needed for that price.
---