Boost Mobile launches loopt, GPS-enabled social network
Nov 14 2006 - 03:13 PM ET | Data, MVNO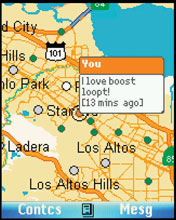 Boost loopt is a new location aware social network service from Boost Mobile and loopt. Using the phone's built-in GPS, Boost loopt automatically updates your location for a private list of friends. Users can update their status and geo-tag locations with text and photos.
Competing carrier Helio recently launched a similar feature called Buddy Beacon. It's not quite as sophisticated, but is also built into their new Drift handset with no extra fees (GPS services will be built into all future Helio handsets).
The service will officially launch for Boost Mobile subscribers on November 20th. It costs $2.99 per month with the first month available for free as a trial. As a further promotion, Boost is allowing customers to use loopt for free through the end of the year.
---