LG LX-150 launches on Sprint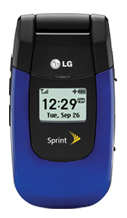 Sprint has launched the LG LX-150, an entry-level clamshell handset. One unique element of the phone is that it sports a dedicated text messaging key. Pressing it takes you right to the SMS section of the interface.
Other features of the LG LX-150 include:
Bluetooth
128×160 pixel screen with 262k colors (external screen is 96×94 and is monochrome)
Speakerphone
The LX-150 is currently showing on RadioShack, but not the official Sprint.com store. RadioShack is selling it for free with a new service contract, no rebates are required. We expect it to start hitting direct channels soon.
---