BlackBerry Pearl launches on Cingular
Nov 30 2006 - 02:44 AM ET | Cingular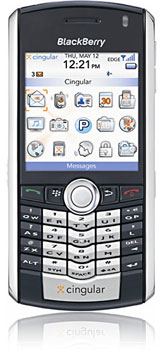 Cingular has officially announced the BlackBerry Pearl, ending both the rumors of an imminent launch and T-Mobile's exclusive period with the sleekly designed device. The Pearl is the first BlackBerry to sport a camera and is also the first to use a trackball instead of scroll wheel. It has proven popular at T-Mobile and will likely be a hot seller over at Cingular. While the Pearl contains all of the email features BlackBerry is famous for, it's designed for consumers instead of business users.
Features of the BlackBerry Pearl include:
Push-to-talk (new to Cingular)
TeleNav

GPS

Navigator (new to Cingular, Bluetooth

GPS

required)
Bluetooth 2.0
1.3 megapixel camera
Media player,

MP3

/AAC/MPEG4/H.263
240×260 pixel display
Speakerphone
64MB memory plus microSD slot

EDGE

high-speed data
Cingular is selling the Pearl for as low as $199 with a 2-year contract. That's the same price point that T-Mobile is offering. The Pearl should begin shipping from Cingular by December 4th though it could show up in select markets before then.
---