Verizon Wireless announces V Cast TV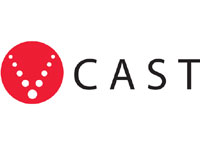 CES 2007 -- As expected, Verizon Wireless has officially announced its mobile TV service. V Cast TV uses Qualcomm's MediaFLO technology to provide broadcast TV to US consumers for the first time. The service will launch later in the first quarter, but Verizon has already revealed some specifics.
Content partners include MTV, Comedy Central, Nickelodeon, NBC News, NBC Entertainment, CBS and Fox. ESPN is currently under negotiation and showed up on the demo handsets but wasn't in the official anouncement. Programs are carried "live" but Verizon Wireless is putting an emphasis on the "best of TV" so while the prime time line ups might sync up there might be a replay of CSI on in the morning instead of a game show. The content is long form so it's the entire show, news cast or sports game. There will be commercials in the content just like there is on conventional TV and in many cases you will see the same ads (for national runs) but Verizon is also looking at selling their own more like a cable provider. Qualcomm had previously talked about time shifting content with MediaFLO but this won't be part of the V Cast TV launch.
There will be two handsets available at launch: the Samsung u620 and the LG VX9400. Both phones feature a dedicated TV button and the ability to view video in landscape. More V Cast TV handsets are expected to be announced later in the year.
While pricing has not yet been announced there will be an extra fee in addition to the regular V Cast fee. CEO Denny Strigl hinted that the price, "Will be affordable" but offered no more details. One spokesman joked that the handsets will be priced to sell and not to admire.
Our first impression
By Jon Gales -- Verizon Wireless had demo units of both the LG VX9400 and the Samsung u620 available. Video content looked reasonably clear on both handsets and the interface was the same (not a surprise since we're talking about Verizon). It was hard to gauge audio quality since there weren't headphones on the units I used. The programming guide is easy to use and should mirror the web version that will be on VerizonWireless.com. The website will let you set up reminders (via SMS) for programming but it was not available for a demo.
---