Apple iPhone officially introduced
Jan 09 2007 - 01:00 PM ET | Apple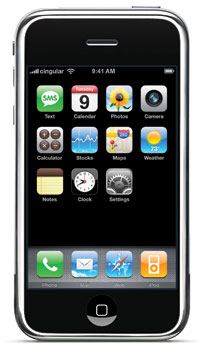 Apple has officially introduced the iPhone. Yes, the official name is iPhone despite the launch of a product from Cisco late last year with the same name. The iPhone is essentially a widescreen iPod and a phone all in one. Utilizing a revolutionary (and patented) touch screen system there are hardly any buttons at all really just the power button. While this device exceeds most rumors it does not have any 3G wireless connectivity, just EDGE. Something that doesn't come through by reading a spec sheet is the very unique operating system. The UI is like nothing we have seen on a mobile device before.
Quad-band

GSM

plus

EDGE

320×480 3.5" touch screen at 160ppi (very high res)
Just 11.6mm thick, which is thinner than the Q or BlackJack.
WiFi (802.11b/g)
Bluetooth 2.0

EDR

2 megapixel camera
Mobilized version of OS X for "desktop quality" apps
Up to 8GB of storage
Visual voicemail
Full iPod functionality, up to 16 hours of playback. Headphone jack on top of device.
While today's announcement comes at no great surprise (the pre-show buzz was palpable), it is still huge news. Apple making a mobile phone is one of the perennial rumors in the mobile industry. MobileTracker alone has been tracking this rumor for almost four years.
Apple will begin shipping the iPhone in June exclusively with Cingular. Pricing runs $499 for the 4GB version and $599 for the 8GB. Both prices reflect a 2-year service agreement. Apple did not address how the iPhone will be sold in other markets.
Several more photos of the iPhone are available below.
UPDATE: Check out our exclusive gallery of iPhone photos.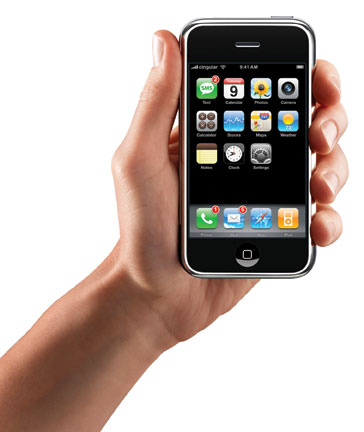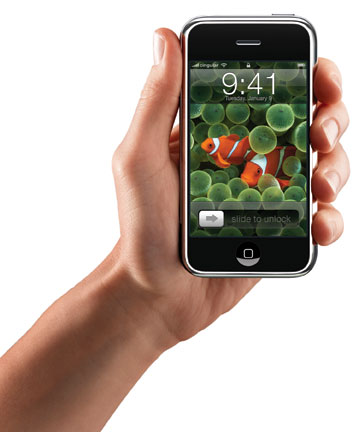 ---