It's iPhone day
Jun 29 2007 - 02:59 PM ET | AT&T, Apple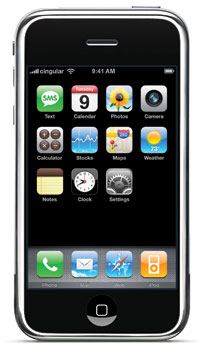 It's June 29th and Apple is finally ready to let the public play with the iPhone. The past six months have shaped up to be the highest profile mobile phone launch ever, Apple has conjured up an amazing amount of buzz for a device that only a handful of people have actually held. While the early adopters are busy waiting in lines across the country to be the first iPhone users, others are busy betting (real money!) on what bugs will be found.
AT&T came out in support of its EDGE network today amid heavy criticism from the first round of iPhone reviews. The combination of a "2.5G" data technology and a HTML/CSS compatible browser can mean some heavy wait times (expect about a minute to render a complex page like nytimes.com). Most phones, even many inexpensive models, from competitors Verizon Wireless and Sprint ship with 3G data support.
Apple has not announced how many units it has on hand, but analysts believe it's around 3 million. Steve Jobs noted that Apple has "built factories to build these things" so supply may not be an issue despite the lines outside stores. Apple employees are set to get free iPhones starting in July.
Get it tonight starting at 6PM. If you're an early adopter and would like to share your iPhone impression with us, get in touch.
Update: After getting a chance to sit down with the iPhone, our first take is that it's a big step forward in the industry and should help force all the major players in the space to focus on software and user experience. There are a number of serious limitations with the iPhone, but it's a solid first try and we're excited to see future revisions.
iPhone specs
320×480 screen (160ppi) with multi touch
4GB or 8GB models
Quad-band

GSM

+

EDGE

and 802.11b/g
Bluetooth 2.0
2 megapixel camera
iPhone reviews
iPhone plans
The recently announced iPhone plans range from $59.99 to $219.99 monthly with the main difference simply being the number of minutes per month. Each plan comes with unlimited data and 200 SMS messages. To get an iPhone you have to sign up for one of the plans with a 2-year commitment.
---