Samsung i730 to ship on Verizon Wireless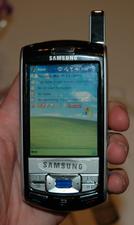 Verizon Wireless today officially announced that it will be carrying the
Samsung i730
. This has been rumored for quite some time (info from the FCC leaked in November 2004). Features of the Samsung i730 include: * EV-DO * Bluetooth * Windows Mobile 2003 Pocket PC 2nd edition OS * Megapixel camera * 240 x 320 pixel 65K color touch sensitive display * 64MB memory * SD I/O slot * Slide form factor with full QWERTY keyboard Pricing was not announced, but Verizon Wireless should start selling the device this summer. Also, Verizon made no mention of WiFi, which is a feature of the i730 a
ccording to FCC documents
. It's
possible
that Samsung removed WiFi as part of negotiations to get the phone picked up. We'll know more this summer.
Two more photos of the Samsung i730 are available below, along with the full statement from Verizon Wireles concerning the phone. The photos were taken by MobileTracker at CTIA.
An additional device will be added this summer when Verizon Wireless offers Samsung's new SCH-i730, featuring Microsoft's Windows MobileTM Pocket PC 2nd Edition software. Working on the go is a breeze with features such as built-in support for EV-DO and Bluetooth for quick wireless access to the Internet. Additionally, the i730 integrates an SDI/O expansion slot for memory expansion and additional productivity applications that can be easily loaded to the device.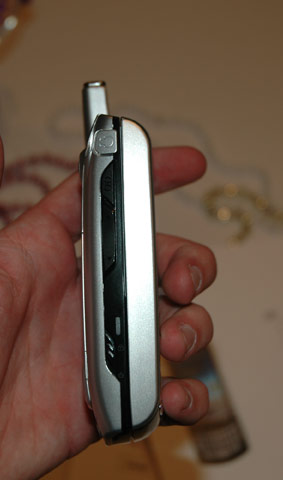 ---