Samsung i730 shipping to consumers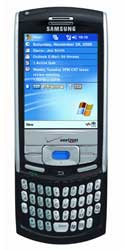 Verizon Wireless began yesterday selling the Samsung i730 to consumers.
Previously
the phone was only available to business customers. The i730 is a very feature rich smartphone powered by Windows Mobile. Features include: * EV-DO high-speed data as well as WiFi * Microsoft Windows Mobile Second Edition * 240 x 320 pixel 65K color display * Bluetooth * 64 MB RAM/128 MB Flash and an SD I/O expansion slot * Intel PXA 272 processor running at 520 MHz Verizon Wireless is
selling
the Samsung i730 for $599.99 with a 2-year contract.
---