Samsung i730 review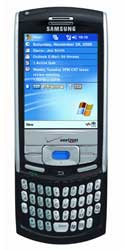 By Ned S. Levi -- Computer consultant and
MobileTracker
confidant Ned S. Levi recently took the Samsung i730 for a test drive and has written a full review of the handset. The i730 is
currently
shipping from Verizon Wireless in the US. Feature wise the i730 is currently the most technically advanced phone in the country--WiFi, EV-DO, Bluetooth, Windows Mobile and more... But does it stand up to the testing of a demanding business user? Read on to find out. Features of the Samsung i730 include: * Windows Mobile 2003 * EV-DO high-speed data * Bluetooth * WiFi * SD card slot
Comments are activated for this review, please feel free to discuss any aspects of the i730.
Samsung i730 review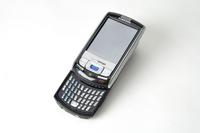 The Samsung SCH-i730 PDA/phone is an extremely fast, highly capable Pocket PC PDA with a stunning 320x240 screen which can be used in portrait or landscape modes, and cell phone with high quality reception. Unfortunately, the i730 empties its battery much too quickly, and, at a weight of virtually 8 oz (227gm) with its essential "extended" battery installed, is heavier than Palm's weighty Treo.
Verizon's Bluetooth Fully Implemented
There is important news within this offering from Verizon in its Bluetooth implementation. It looks like Verizon finally heeded its customers' message that they demand full Bluetooth capability, not Verizon's previously designated, partially disabled, Bluetooth implementation, which ruined the Motorola V710. The i730 easily paired with Samsung BT headsets, transferred files and photos via Bluetooth to other phones, including non-Samsung units, and sustained its pairing with a car's (Acura) built-in "hands-free" phone system. The one disabled item is the i730 can not be used as a wireless modem for a laptop computer. Verizon is right to be concerned that laptop users would use an EV-DO connection more than Verizon would want.
Windows Mobile based PDA with plenty of memory
The i730 uses Microsoft Windows Mobile™ 2003 SE. It's a shame it's not the greatly improved Windows Mobile™ 2005, and I'm afraid this phone will never see it. The Pocket PC PDA segment of the i730 is first rate and includes a number of great pieces of software including pocket versions of Microsoft Word and Microsoft Excel. The i730 has a 520MHz Intel PXA272 processor, 64MB of internal RAM, and 128MB of flash memory of which more than 80MB is available for programs and data storage. You also get an expansion card slot for an SD memory card.
Verizon EV-DO speed approaches 600Kbps
With Verizon's EV-DO (43 cities across the US at present) Internet access is, in two words, basically broadband. I was able to download at a speed approaching 600Kbps. When EV-DO is unavailable the i730 connects to Verizon's 1X network, which runs a bit faster than dial-up. Programs such as Worldmate 2005 work great on this phone pulling in weather, currency and flight status data via the Internet.
Built-in Wi-fi, but no camera
The i730 has built-in Wi-fi. You can't receive phone calls while you're using Wi-fi, however, I don't think that's a big problem, since you'd be using it sparingly, either when you have a poor signal, or when EV-DO isn't available and you need fast Internet. When you're using Wi-fi, Verizon's voice mail will take your messages. When Wi-fi is on, the battery life of the i730 significantly decreases. As I discuss later, this is not an inexpensive PDA/phone. One would have expected it to have a camera in its feature set. It does not.
Business user and traveler needs
When I purchase a PDA/phone, while the PDA segment is important, if the cell phone segment doesn't perform as needed, I'm going to buy a different unit. As a business user and traveler I have some specific requirements for any phone I purchase. I want strong, clear call reception, long battery life, a great speaker phone capability, an illuminated phone dialing pad, a quick redial method, true voice dialing, a memory expansion slot for programs and files, ring and vibrate configuration capabilities, pop3 email capability, easy syncing to a PC, Bluetooth technology for wireless "hands free" use, and a true on/off switch. If this was a "world phone" I would have other requirements as well. The i730 isn't a "world phone" and is meant for use within the US. The i730 has excellent, clear reception, and a good speaker phone, which at full volume exhibits some distortion, but you normally don't need to turn the volume that high. You get an expansion card slot for an SD memory card. Syncing the i730 to a PC is easily accomplished with Microsoft's ActiveSync.
Thumb keypad woes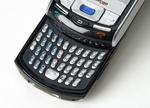 The illuminated phone dialing pad is part of the thumb based keypad which slides out from under the screen. A larger, more convenient, easier to use illuminated phone dialing pad is screen based and available when you push the send key with the keypad hidden. The problem with screen based dialing is the screen gets dirty quickly when you use your finger to dial, or when you use the i730's touch screen in general, but who wants to take the stylus out to dial a call. The thumb keypad has problems. The keypad is little tighter than on the Treo. The keys are small enough and close enough together that you must use your fingernail, or you'll regularly press the wrong key or multiple keys. The names on the keys are tough to see in daylight because they're so shiny, and at night as unless you're hitting those keys continuously, the light on the keypad goes off after 3 seconds of inactivity.
Redial Cumbersome
The phone's redial method is cumbersome. When you push the send key with the keypad hidden (nothing comes up when it's open, except the last number dialed) you get the last number dialed and an option to see the call history, which after chosen, you can scroll through. This isn't nearly as good as pushing the send key and immediately getting a list of previously dialed numbers to scroll through, headed by the last number dialed. Voice dialing is absolutely great and the routine rarely makes a mistake. The phone includes various ring/vibrate choices, and an excellent pop3 email capability. Verizon includes Intellisync for push e_mail too.
Weight and Battery Life are i730's downfall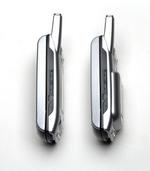 The i730 comes with two batteries, a slim one and an "extended" thicker one, with a cradle that charges both at once. Believe me when I tell you the i730 needs that backup battery to be available. Use the phone for about 2 hours of conversation, and the PDA for another 2 hours in meetings, and you've completely emptied the slim battery. That's much less battery life than the Treo, and for my money, unacceptable. When I weighed the i730 provided for my evaluation by Verizon, with the lighter slim battery installed, the i730 weighed 7oz (198gm). Put in the "extended" battery and the phone gets quite bulky and weighs just about 8oz (227gm). The Treo, by comparison, weighs 6.3oz (178gm). The "extended" battery did give me a combined usage of about 4 hours talk time and 4 hours of PDA time, with 20 hours of standby time, which is adequate, but the "extended" battery adds too much weight and bulk to the phone. Bluetooth was on during my usage tests with both batteries. I like to be able to carry my PDA/phone in my suit jacket pocket or a shirt pocket, but wouldn't want to carry the i730 except on my belt. As far as the on/off switch goes, the phone can supposedly turn off completely with the off switch, but I couldn't do it on my test i730 without momentarily removing the battery. When the phone was turned off and locked with the switch, merely sliding the keypad out, immediately reactivated the phone.
Pricey for what you get
Verizon is selling the Samsung i730 at $599.99 with a two year contract, $200 more than the Treo. In addition to the i730 itself, the package includes a wired stereo headset, a belt holster, and a folding USB sync cradle. Unlimited Internet, which includes EV-DO will cost you $45 per month on top of your phone plan (
Ed. note:
EV-DO pricing differs for phones and laptop data cards. Getting a data card costs $79.99 a month, but unlimited EV-DO through a phone is $45). These are not insignificant costs. Considering the i730's purchase price and its shortcomings, including battery life and weight, I can't recommend the Samsung i730 PDA/phone from Verizon.
Ned S. Levi is president of NSL Associates Inc., a technology consulting firm, located in the Greater Philadelphia, Pennsylvania Region. NSL Associates Inc. primarily advises small businesses and non_profit organizations, additionally providing technology sales and service, computer networking and other services. Ned is a professional engineer by training with an MBA in operations management. He served as COO and CFO of a multinational specialty oil and chemical company for more than 20 years. Ned travels extensively throughout the US for business, and for volunteer work for Youth Soccer.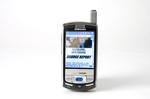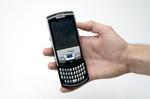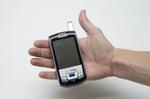 ---