Motorola RAZR V3 for $49.99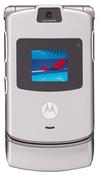 The Motorola RAZR V3 just got cheaper--Amazon.com is now
selling the super-thin handset for $49.99
after rebate and a new service contract through Cingular Wireless.
Earlier this month
we noted when Amazon dropped the RAZR's price down to an industry low $99.99. This last price drop is the lowest price we have seen to date. When Cingular Wireless
began shipping
the RAZR V3 back in November 2004, it cost $499. Motorola
announced
the handset nearly 10 months ago. It's not known if Motorola will announce an updated RAZR in the near future, but the
SLVR V8
and
PEBL V6
are slated for release later in the year.
---