Motorola RAZR V3x, possible V3 successor?
Jul 17 2005 - 09:35 PM ET | Motorola, Rumor
UPDATE:
Word
came from Motorola
that the RAZR V3x is simply the new name for the Motorola V1150 and no US version will be made.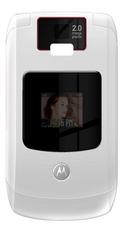 Motorola has
added
a new handset called the
Motorola RAZR V3x
to its US website. Feature wise it looks like a variation on the
Motorola V1150
which was announced this year at CeBIT. Feature wise the Motorola RAZR V3x is loaded: * 2 megapixel main camera plus VGA camera for video calls * SCREEN3 streaming data technology * Bluetooth * MicroSD (TransFlash) slot for up to 512MB of extra storage Expect the RAZR V3x to start shipping in the fourth quarter. Rumors point it to launch with Cingular.

---