Mobile ESPN launches
Nov 28 2005 - 12:23 AM ET | MVNO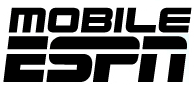 ESPN appears to have launched its mobile phone service dubbed Mobile ESPN. While the service wasn't slated to go national until next year, there is one phone now for sale online. Retail sales are still expected to launch through BestBuy in February 2006.
Mobile ESPN is launching with one phone, the Sanyo MVP. Equipped with EV-DO and a memory card slot, the MVP is an upper-level phone. ESPN is also charging upper-level prices, $400 for the phone (after a $100 rebate) and monthly service plans starting at $65.
The regular service fee covers unlimited use of ESPN's mobile services, which include many exclusive features.
A few other high-profile MVNO carriers are expected to launch soon, including Amp'd Mobile.
[via PhoneScoop]
---