Mobile ESPN MVNO launch details announced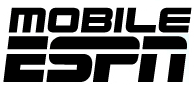 ESPN revealed some more details about the launch of Mobile ESPN, a sports themed mobile virtual network operator (MVNO). The first change is that the service will now be called Mobile ESPN--prior to today it was called ESPN Mobile. Nationwide rollout of Mobile ESPN is set for Sunday, February 5, though there will be a limited release through the website before the holiday season. The first phone to launch on Mobile ESPN will be the Sanyo MVP.
Like Amp'd, Mobile ESPN will use EV-DO to power data services. Mobile ESPN is using the Sprint network, which is currently upgrading to EV-DO.
It came out during Sprint's negotiations with the NFL that ESPN will have the rights to broadcast Monday Night Football to phones, so we expect this will be one of the services on top of Mobile ESPN.
---