Motorola TXTR D7 text messaging accessory announced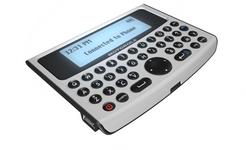 CES 2006 - Motorola today announced a wireless QWERTY keyboard that hooks in with many existing Motorola handsets to aide text messaging. The Motorola TXTR (model D7) uses Bluetooth to hook into phones and has a screen so you don't need to have the phone in view to message.
Motorola says the TXTR is compatible with Motorola Bluetooth 1.1 or 1.2 –enabled phones that support Bluetooth data profiles for serial ports (SPP) and dial-up networking (DUN).The monochrome display can show up to four 20 character lines of text. The battery life is quoted at 24 hours of active use. Look for the Motorola TXTR D7 in the first half of the year.
---