Opera Mini launched worldwide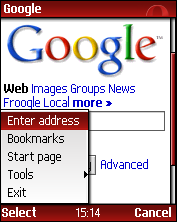 Opera Software today released its mass market mobile browser, Opera Mini. Until now the software was only available in Norway and other select European countries. Unlike Opera Mobile, Opera Mini is designed to be used on the vast majority of phones that ship in the US--any modern phone with Java. In the US that means if you have a handset from any national carrier besides Verizon Wireless, your phone is probably compatible (Verizon Wireless uses BREW instead of Java, no word yet if a BREW version of Opera Mobile is coming).
Opera Mini uses a proxy server to reduce page size and complexity for a total savings of up to 80%. This not only helps out phones with slow data connections, it also lowers the application's memory requirements so it can work on more handsets. Thanks to an undisclosed monetary agreement with Google, Opera Mini's homepage defaults to the search leader.
The application is available for free from the company's website and can also be delivered via a premium SMS for $2.99. To download from your phone, point its WAP browser to http://mini.opera.com.
---