Motorola ROKR E3 pics leak
Mar 02 2006 - 09:57 AM ET | Motorola, Rumor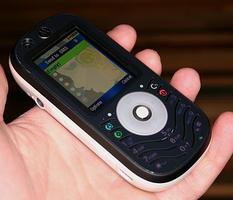 Our friends at Engadget got ahold of the mystery ROKR phone that Ed Zander gave press a tease of at last year's analyst meeting. While it has been some time since that event, Motorola's new policy of not announcing phones until they start shipping has meant we knew nothing about it until today. We might also start seeing more leaks like this since Motorola isn't used to keeping so tight lipped.
The ROKR E3 includes (may change):
GSM

/EDGE
512MB internal memory plus MicroSD slot
Bluetooth
1.3 megapixel camera
3.5mm headphone jack
iTunes is not on the unit Engadget has and the scroll wheel looking patch in the middle is just four buttons around a fairly standard joystick. No word on when this baby will ship. The ROKR E2 was just announced in January.
---