Mobile ESPN announces MLB content
Mar 31 2006 - 09:17 AM ET | Data, MVNO

Mobile ESPN announced its exclusive content lineup for the 2006 Major League Baseball season. Since the carrier was launched after the end of the 2005 season, baseball wasn't a major part of the initial content.
Mobile ESPN's MLB coverage includes:
In-game video highlight clips of each ESPN telecast game (150 games)
Scoreboards with game status information and real-time scores for every Major League Baseball game
Real-time ESPN.com Fantasy team management
Personalized content for favorite teams and players, including video highlights and alerts
Mobile ESPN is a Mobile Virtual Network Operator (MVNO) using the Sprint PCS network. A screenshot of the new MLB coverage is available below.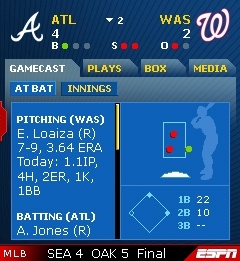 ---