Verizon Wireless preps Chaperone child locator service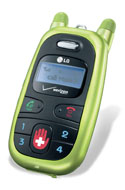 Verizon Wireless will formally introduce a child locator service called Chaperone on Monday. The location based service ties in with the LG Migo handset which went on sale in December 2005. Location data is accessible from a website or directly on a compatible handset through a BREW application. Sprint runs a similar service called Sprint Family Locator.
Pricing for Chaperone is two tiered. The base level runs $9.99 a month and the upgraded service runs $19.99 a month. The upgraded service adds the ability for parents to create zones for child, with different types of alert for entry and exit out of those zones. The Migo handset has to be part of a family plan for it to be used with the Chaperone service.
When the Migo handset is in the process of being located, its screen glows blue and displays "locating" on the screen. Location data is not saved by Verizon Wireless and is only displayed when the parent accesses it. The pinpoint accuracy varies based on location (inside or outside) and thus the location is given within a circle of possibility shown on the map.
We first heard of the service back in January.
---