Motorola intros emerging market handsets
Jun 21 2006 - 03:04 PM ET | Motorola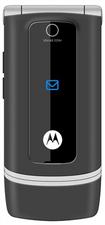 Motorola has announced a collection of new handsets bound for emerging markets. The focus is on price and as Motorola notes to "Connect the Next Billion." Two of the handsets include GSM 850 and might launch in the US as pre-paid handsets. The handsets are:
W220 - Clamshell with internal and external displays (external is icons only). FM Radio, picture messaing and 293 hours of standby time.
W375 - Another clamshell, but this one with GSM 850/1800/1900. Features include FM radio, MP3 player, speakerphone and VGA camera. Shown at right.
W170 - CDMA handset with speakerphone, FM radio and polyphonic ringtones.
W208 - Thin candybar handset with GSM 850/1900. Sports FM radio and speakerphone.
W210 - CDMA handset with FM radio and Lantern feature to light up the night.
---