Motorola K1c headed to Verizon Wireless
UPDATE: You can now purchase the KRZR K1m through Verizon Wireless for just $139.99.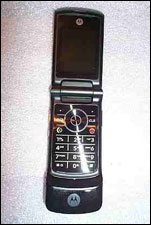 Verizon Wireless is set to get the Motorola K1c according to some newly leaked photos and other reports. This is the first time we've heard the name K1c, it comes via information [scroll down] from the Bluetooth SIG. The K1c was codenamed the Canary and recently called the KRZR. K1c seems like a much more logical name (the GSM version will simply be the K1).
Like the RAZR V3c, the K1c features Verizon's unified interface. If features are similar to the K1, we can expect the K1c to have a 2-megapixel camera, stereo Bluetooth and EV-DO.
There is no official word on when the K1c will be announced, but rumors point to later this month being likely. Motorola might have also found its new naming scheme, the previously leaked Motorola Capri is said to be getting the name Z3.
---