Motorola SLVR L7c announced
Jul 24 2006 - 08:30 PM ET | Motorola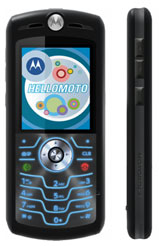 Motorola is finally bringing its SLVR handset line to the CDMA standard. The Motorola SLVR L7c was announced today and is rumored to be heading to both Verizon Wireless and Sprint PCS. The SLVR L7c introduction came along with a slew of other handsets, including the RAZR MAXX, KRZR, RIZR and RAZR XX.
Features of the Motorola SLVR L7c include:
CDMA

1xEV-DO 800/1900
176×220 screen with 65k colors
microSD card slot

VGA

camera
Bluetooth
Size 49.8 × 113.9 × 12.9mm
The Motorola SLVR L7c is expected to begin shipping in the second half of the year. While there are rumors that both Sprint and Verizon will be launching it, no hard (e.g. official) evidence is available. Motorola has announced the L7c sports BREW, which makes its future for Sprint questionable (but at the same time almost makes it a lock for Verizon). Time will tell.
---