Pink Motorola SLVR announced
Mar 03 2006 - 02:43 PM ET | Motorola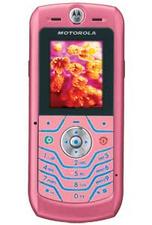 Thanks to surprisingly high sales of the pink RAZR, Motorola has announced a pink version of its SLVR handset. Pink was a standout seller for Motorola while the light blue color that was also announced never took off past initial shipments. The pink SLVR L6 will be marketed to the style conscience young female set.
Features stay the same as the normal SLVR L6:
Just 10.2mm thick
Bluetooth
VGA camera
10MB memory
128x160 pixel screen
Carphone Warehouse has an exclusive on the pink SLVR with T-Mobile service through the end of the month. In the US consumers can choose between a pink RAZR from Verizon Wireless, T-Mobile and Cingular.
[Via Gizmodo]
---