Motorola and Burton intro second-gen Audex Jacket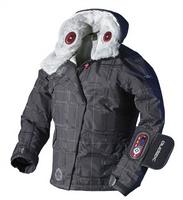 Motorola and Burton have announced the second-generation Audex Jacket Series. The new line sports A2DP stereo Bluetooth to connect with a mobile handset and stereo speakers. There are also wires to hook in the iPod via its dock connector.
Other highlights:
One touch music controls on sleeve
Compatible with any Bluetooth 1.1 or 1.2 phone that supports headset and handsfree profiles
Besides music playback, gear acts as a headset
Screen in control panel shows caller ID info
The new Audex Jacket Series is expected to begin sales in Q3 of this year.
---