Samsung Trace previewd by T-Mobile USA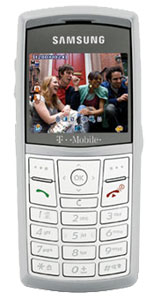 T-Mobile has posted a "coming soon" page for the Samsung Trace t519. This is the first we've heard of the Trace moniker, but the phone itself looks to be a remix of the Samsung X820. The Samsung Trace takes thin to an absurd degree--it's just 7mm thick (that's half the size of Motorola's RAZR V3). Besides continuing the thin trend, the Trace also extends the new brandable name strategy that most manufacturers have attempted recently (RAZR, Katana, FUSIC, Chocolate, etc).
Features of the Samsung Trace include:
4.5×2x.3" with a weight of 2.5oz
1.3 megapixel camera
Quadband

GSM

plus

EDGE

Bluetooth
microSD card slot
Media player:

MP3

/WMA/AAC
Speakerphone
No launch date or price was announced, but we'll let you know all the details when the Trace starts shipping.

---