Motorola ic402 launches on Nextel, dual-mode iDEN/CDMA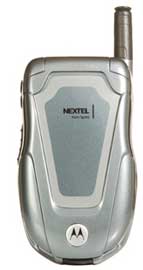 Sprint Nextel has launched the Motorola ic402 on its Nextel network. The ic402 is the second dual-mode iDEN/CDMA handset, the ic502 was launched last month. Dual-mode handsets are an important part of Sprint's integration strategy with Nextel. Voice calls are made over the Sprint PCS network and walkie-talkie services are handled by the Nextel iDEN network.
Features of the Motorola ic402 include:
iDEN and

CDMA

connectivity
128×160 pixel screen with 65k colors
Push-to-Talk using Nextel Direct Connect
Speakerphone
Java
After a 2-year contract and $40 rebate, the Motorola ic402 costs $39.99. The previously announced ic502 is currently selling for $59.99 with similar promotions.
---