Motorola RAZR V3i launches on Cingular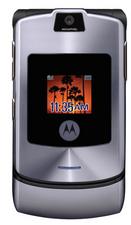 Cingular has finally launched the Motorola RAZR V3i, nearly a year after its original announcement. The handset is an update to the prolific RAZR V3 which is still being sold by Cingular in four color combinations (Silver, Pink, Blue and Black).
Features of the Motorola RAZR V3i include:
iTunes music player
Bluetooth
1.2 megapixel camera
microSD card slot
Quadband

GSM

176×220 pixel screen with 262k colors
Interestingly, Cingular's website notes that the V3i has up to 3 hours of talk time. The same listing shows 7 hours for the V3. Cingular is selling the RAZR V3i for $249.99 after a two-year service agreement and $50 mail-in rebate. All colors of the original RAZR V3 is selling for $99 after a similar rebate.
---