Samsung t509s Plum launches on T-Mobile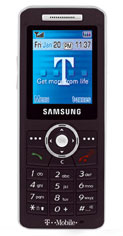 Motorola is not the only company that extends the life of a handset via new colors--Samsung has updated its thin t509 handset with a new coat of paint and called the resulting phone the Samsung t509s - Plum. The "thinnest phone in the country" tag line originally used to market the t509 had to go away when the Trace launched, but at a scant .4" the handset still makes the RAZR look chunky.
Features of the t509s include:
GSM

850/1800/1900 +

EDGE

Bluetooth

AOL

/Yahoo/MSN/ICQ instant messaging
Speakerphone
The t509s is also compatible with the new myFaves calling plans that were launched earlier this week. T-Mobile is selling the t509s for $49.99 after a $50 mail-in rebate and 2-year service activation.
---