T-Mobile picks up Miami Ink RAZRs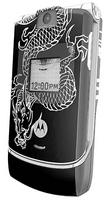 T-Mobile just launched two special edition Sidekicks, but is not done launching customized versions of its existing lineup. Starting on October 30th, T-Mobile will begin to sell Miami Ink design etched Motorola RAZR V3's. Pricing was not announced, but we expect a small premium when compared to the normal V3.
Two designs from Ami James, including the one seen at right, will launch first. Motorola hasn't said much, but it's possible that the Miami Ink Collection will expand with more designs. The tattoo itself is laser-etched onto the brushed aluminum surface of the RAZR. The new tattooed handsets have the same features as their bare counterparts.
---