MOTORAZR V3t launches on T-Mobile
Oct 30 2006 - 04:59 PM ET | T-Mobile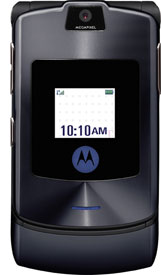 T-Mobile has launched the Motorola RAZR V3t. Despite a new model number, the V3t is simply a V3i branded for T-Mobile. Cingular launched the V3i to little fanfare last month.
Features of the Motorola RAZR V3t include:
Quadband

GSM

1.23 megapixel camera
microSD card slot (card included)
Bluetooth
T-Mobile is selling the RAZR V3t for $149.99 with a 2-year service contract and $50 mail-in rebate. In a related release, T-Mobile is also selling the limited edition Dolce & Gabbana Gold RAZR V3i. It has the same features as the V3t and is selling for $299 with the same contract and rebate. Both phones support MyFaves.
Two more images of the RAZR V3t are included below.


---