Motorola Q gsm announced
Feb 12 2007 - 03:44 AM ET | 3GSM, Motorola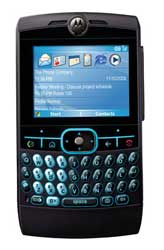 3GSM World Congress -- From day one Motorola said that the Q would come out supporting different network standards. Today the Chicago based company made good on that promise, enter Motorola Q gsm. For users that want 3G Motorola also announced the Q q9 today. It's a next generation Q with HSDPA. Besides supporting GSM, the Q gsm is also one of the first phones to feature Windows Mobile 6.
Features of the Motorola Q gsm
Quad-band

GSM

plus Class 10

EDGE

miniSD memory card slot (miniSDIO supported for things such as WiFi)
Windows Mobile 6
1.3 megapixel camera
Bluetooth with

A2DP

stereo support
The Motorola Q gsm will begin shipping in the second quarter. Pricing and carrier availability were not announced.
---