Dwyane Wade Sidekick 3 from T-Mobile USA
Feb 12 2007 - 02:40 AM ET | Danger, T-Mobile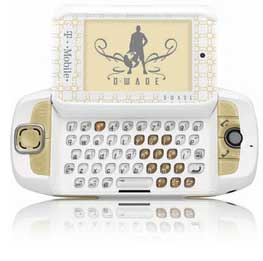 T-Mobile has introduced the Sidekick 3 D-Wade Edition, a souped up version of the venerable Sidekick 3 designed by NBA phenom Dwyane Wade. Wade has been a Sidekick user for a couple of years and says he is excited to be able to put his own twist on the device:
"My T-Mobile Sidekick is a part of me. I don't go anywhere without it because it keeps me in touch with the most important people in my life," said Wade. "I really wanted to design a Sidekick that meant something special to me – one that reflects my own personal style and inspiration. I'm excited that it will soon be in the hands of people who want a great device that looks smooth."
Feature wise the special edition handset mirrors the original. However the case has been retooled in a new gold and white color scheme. The back also features a basketball-texture for extra grip (we hope it's modeled after the classic leather ball and not the ill-fated synthetic that thankfully has been phased out).
The D-Wade Edition Sidekick goes on sale February 21st. It should be available at all corporate T-Mobile stores in addition to online. T-Mobile previously announced two other special editions of the Sidekick 3.
---